Ah, the weekend after Thanksgiving! So many advertisements from the big box stores! I find it frustrating that so many businesses turn the season of giving into a season of selling. However, I do love to give (and receive!) gifts! As much as possible, I like to give things I've made myself (or made with the rest of the family), but that isn't always possible. I've been purchasing lots of handmade items from online shops for this holiday season, and I thought that I'd share them with you; perhaps I'll introduce you to a new artist that makes something perfect for someone on YOUR gift list (or yourself!) So, here's a list of what I've been buying for this holiday season (all pictures are from the respective artist, there are links to each shop throughout the post).
Yummy Deliciousness
This farm is located in Downeast Maine, and has been certified organic for 35 years! It's run by Cynthia and Bill Thayer, they are old family friends. I have many fond memories of vising the farm when I was young – they were very inspiring to me. In fact, Cindy's weavings made by wool she raised, dyed and spun herself were probably my introduction to textile art!
They have a farmstand where they sell their veggies and goat's milk during the summer, and every winter they have a holiday shop, where they ship preserves and other delicious goodies, as well as wonderfully smelling decorations made with balsam pine cut from their own organically managed woodlot. Cindy and Bill suffered a devastating blow in a year and a half ago – their 150 year old barn burned down, with all their livestock: three horses, 20 sheep, pigs, cattle, and many young birds! Oh, it was hearbreaking. They are part of an incredible community that spreads far and wide: donations, both monetary and of hard work, enabled them to rebuild this timber frame barn which houses their new animals. Bill has a team of Haflinger horses, Andy and Archie, and they've been given a small flock of glorious Island sheep.
Something lovely from their shop has been my go-to gift for several years, take a look and see if anything there would be  a good fit for someone on your list!
Functional and Beautiful
Silly Boodilly
The simple, elegant work of Victoria Gertenbach truly elevates the homespun feel of the cloth that she uses. She and I became friends after meeting on the set of Quilting Arts TV 3 summers ago, and she made a pair of lovely art quilts with indigo dyed fabric I sent her this Summer, one of which now belongs to me! I bought this pincushion from her last year:
and covet a few of these fabulous hand stitched beads she makes:
If you've never seen her work, take a minute and stop by her blog or her shop!
Liz is a twitter pal who works in Lowell, Massachusetts. I purchased some beautiful felted hair jewelry from her: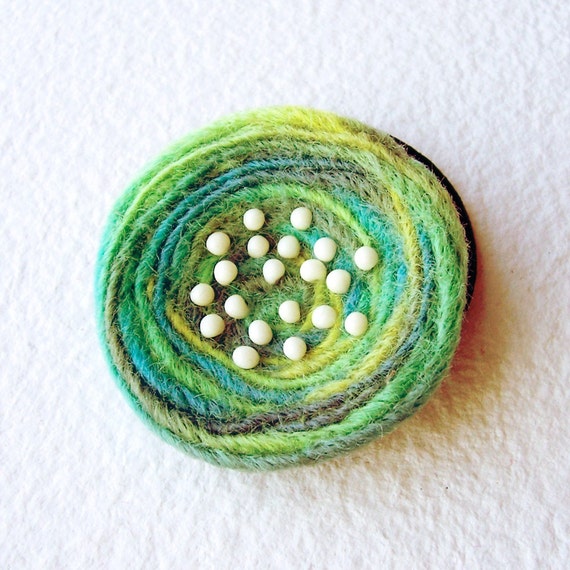 and also some lovely cards that her Mom paints: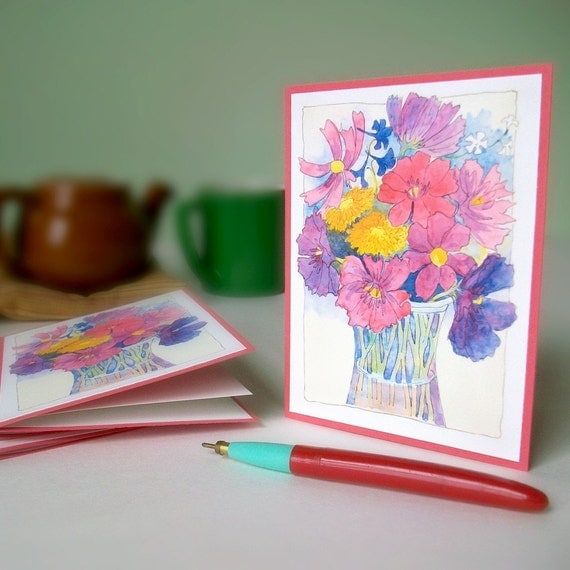 And look at this incredible felted cupcake pincusion: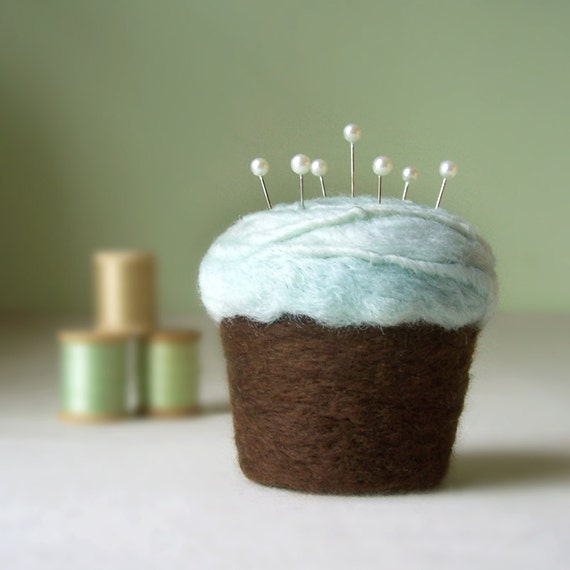 You can find these, and lots more beautiful hand felted, crocheted and knitted accessories at her shop: Made in Lowell.
Sage Advice and Lots of Color!
Aimee Dolich's art is an awesome combination of on-point observations about life combined with awesome color and delicious handwriting.Last year she self-published a book "The Things We Do" about parenting, I had to immediately get 3, one for myself, and 2 for my best buds here in Redlands who are also Moms – I know the way she describes parenting joys and trials would ring true with them.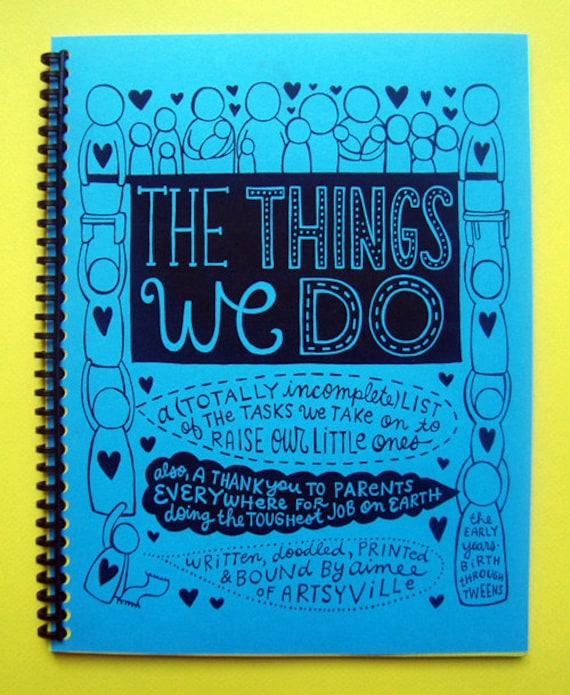 Last year she produced her own line of washi tape, I'm have fun decorating packages with my set: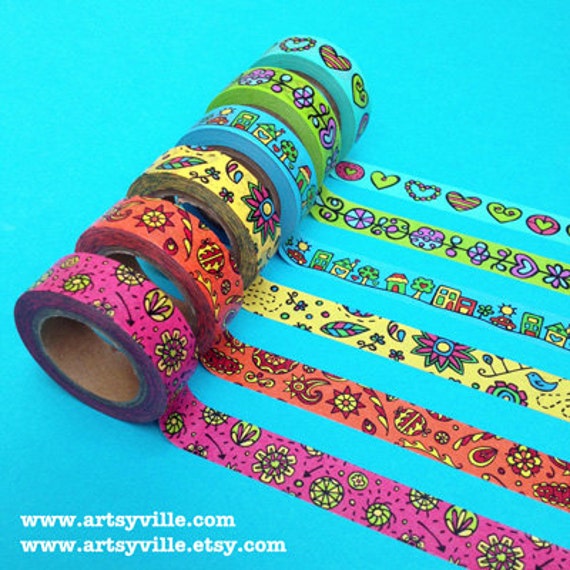 I also have several of her prints, but I thought that these groovy doodle clips would make great stocking stuffers: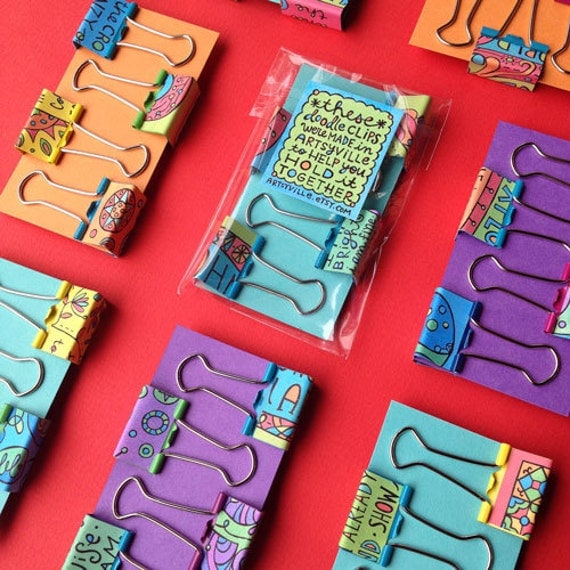 You can find these, and lots more, at her shop: Artsyville.
Oh, I love, love, LOVE Sarah's work! She is a mixed media artist who often features botanical images – she very skillfully lays down color after color, and then includes just enough text to add to the mood. I'm putting this print on my Christmas list: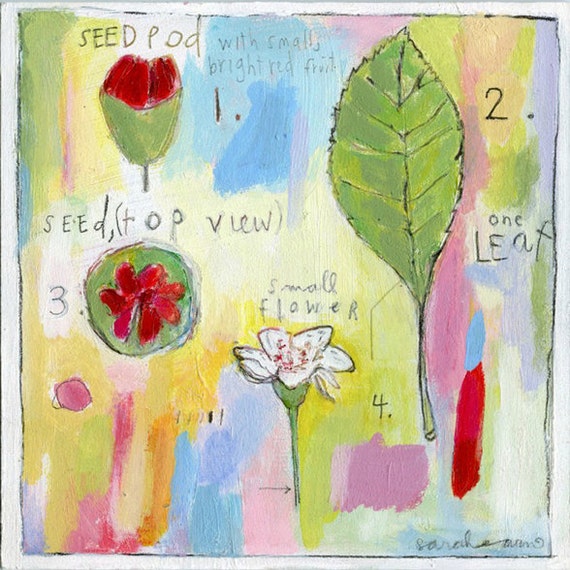 I buy one of her 5″ x 7″ calendars each year – it fits on a little clipboard and hangs in my studio. She hasn't posted a 2015 calendar in her shop, fingers crossed she will!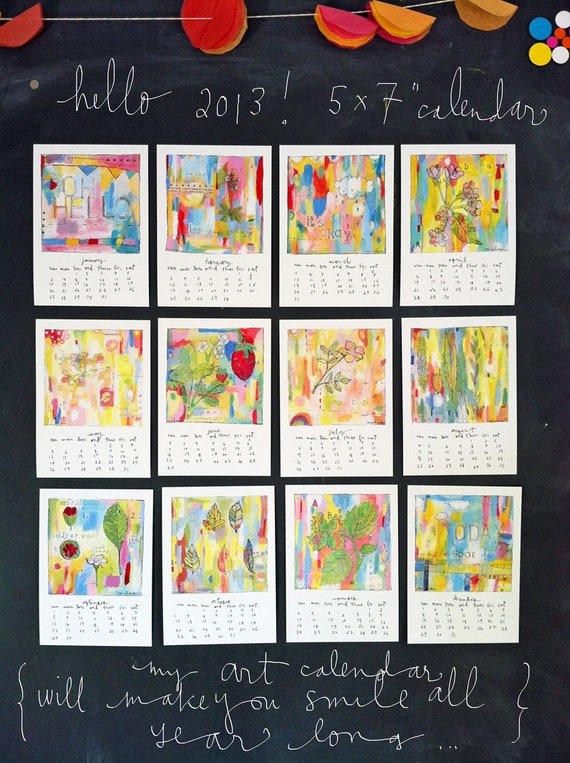 She also has lots of amazing art, please go check out her work!
Holiday Decorations
I've written about my love for everything Heather Moore does before – her paper cutting art rocks my world! Last year, the second I saw an Instagram picture with these ornaments in them, I was at her shop to see if they were for sale yet! They were, and a pack of both the bird and baubles ornaments, lasercut from birch, were winging their way to SoCal from South Africa!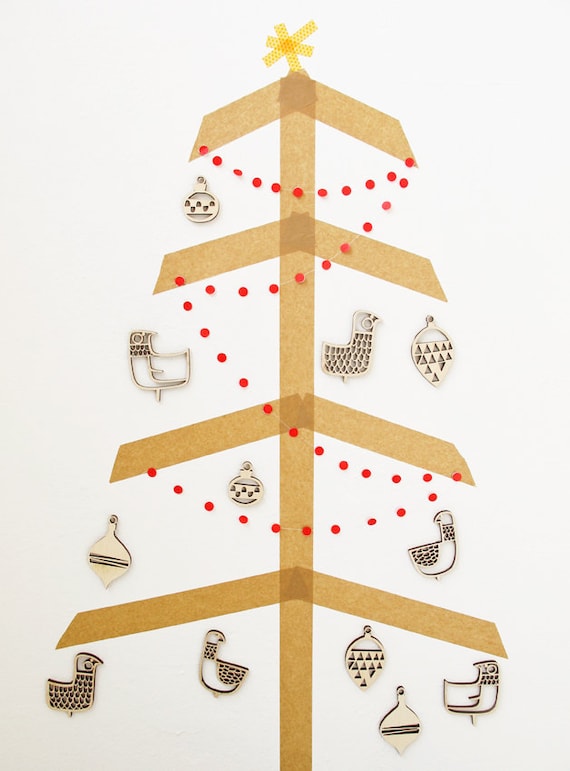 Of course, I needed some birdie gifts tags as well, to gussy up my packages!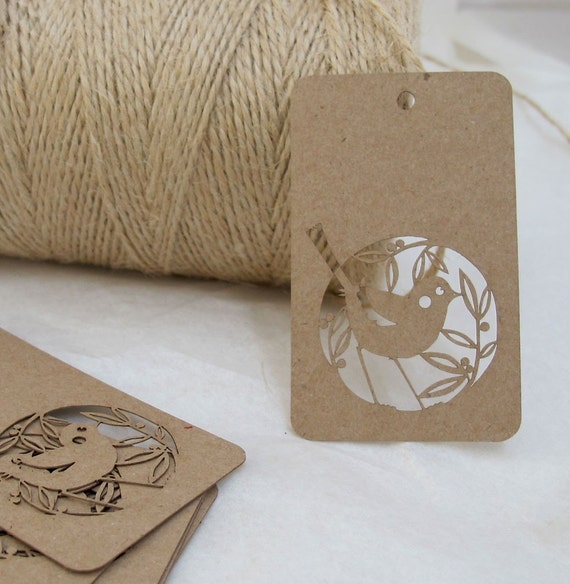 Take a peek in her shop and revel in all the glorious screen printed fabrics as well: Skinny LaMinx.
Speaking of laser-cut ornaments, Jennifer Judd-McGee, an incredible paper cut artist from Northeast Harbor, ME, has a new line just in time for tree decorating! I snapped a few up as soon as I saw her post on Facebook!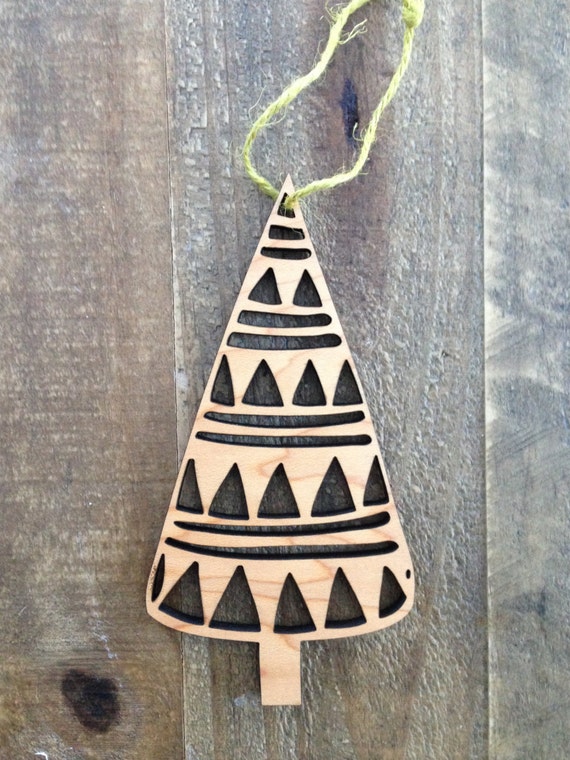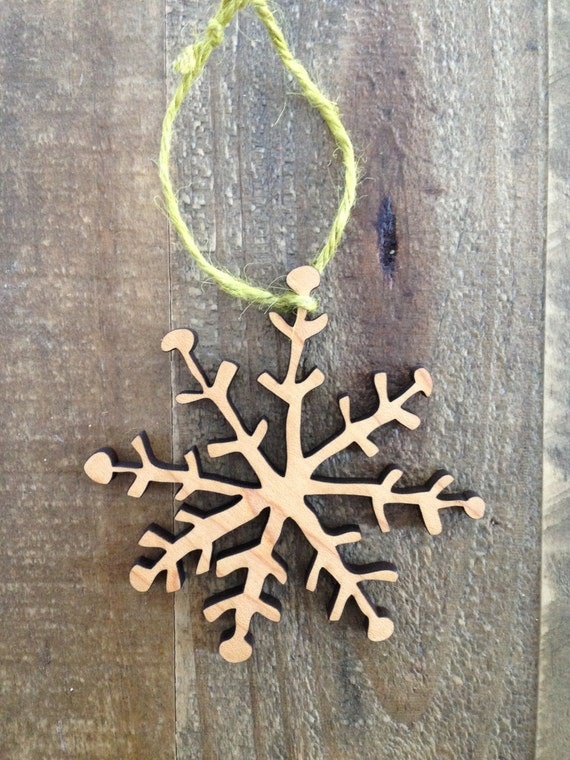 Look at this lovely piece: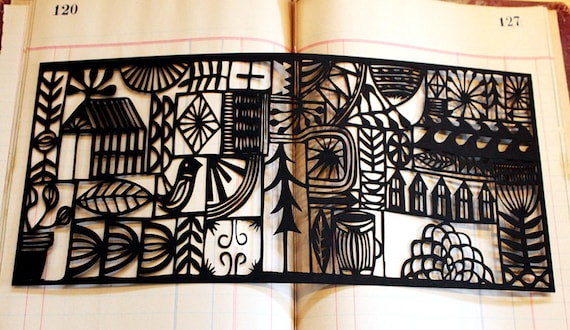 I just love it! Check out her shop here.
The wee clay houses made by the Little Red Door always make me smile. Now, she's making awesome Christmas ornaments, I ordered the house on the right:
and this tree last year:
This year I think a cute moose is going to  join them on the tree: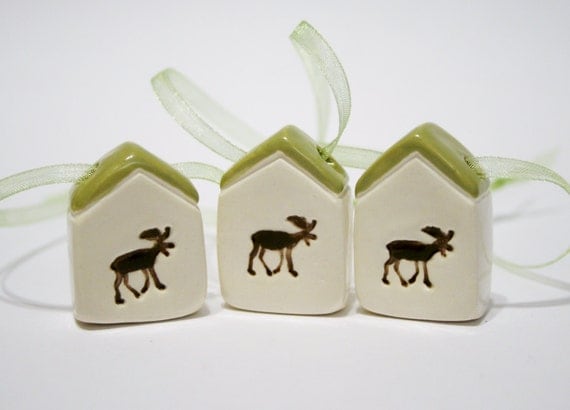 Head on over before they're all gone!
Shane is an amazing local ceramic artist. He usually makes huge, abstract sculptures based on sea-life, but this time of year, he also makes these incredible ornaments: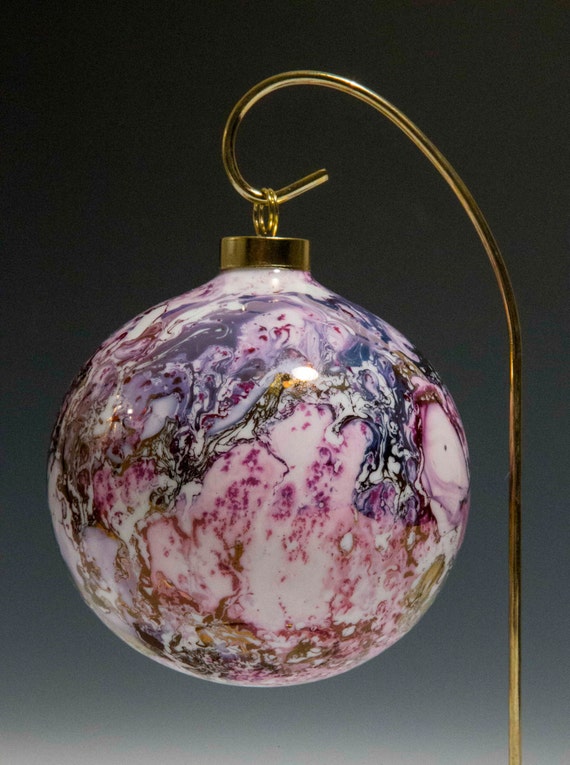 He gets this incredible texture by applying precious metals to the orbs before firing:
They look like the most amazing granite in fantastical colors, don't they? There are lots of these on my tree, and every year a couple people on my gift list receive some of these beauties. This year Shane's opened up an Etsy Shop, check it out here.
Last, but hopefully not least, for local folks, I'm taking part in a Redlands Area Artists' Holiday Studio Tour next weekend:
I'll be holding an open studio along with 6 other of my artist friends here in Redlands. We'll all have lots of things that would make great gifts, most of us have something to drink and snack on, so if you're not too far away, come join us either on Saturday and Sunday between the hours of 11 am and 6 pm. Learn more about it here.