Hello hello! I have just returned home from taping a couple of episodes of Quilting Arts TV. I cannot WAIT to give you all a full report, I had so…much….FUN! But I've gotta get pix out of my camera, and hopefully a few more are on their way to me from other people's cameras. So for now, I want to share with you a view from BEHIND that pretty table on the set:
Yes….it is a bit intimidating! 😉
I had lots of incredible moments this week, and I'll be sure to share more with you ASAP, but the one I wanted to stop and remember today is that although shooting for TV is still scary and intimidating, I was really amazed at how much easier it was to look up from that table and out to all those lights and cameras this year. I remember that when I came home last year from shooting some QATV episodes, my older son asked me how many cameras they used and I had NO idea, I really had been too scared to look out into that darkness and notice all those things pointed at me. This year, although I still don't know the answer, I know there were at least 5, because of some technical difficulties "camera 5" was having at one point. (Poor camera 5 isn't even in this shot, it's off to the left, pointing at the sewing machine that is at right angles to the main table). I took this picture as a reminder for myself, and to show you guys, what it looks like. Facing my fear did (and of course, having done this before and not sucked) helped me overcome it!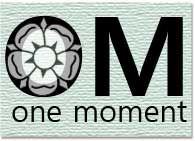 alamodestuff Linda has started a weekly meetup based on taking a moment each week to really notice something as you go about your daily grind life. I need to do this. You may want to too – read more about it here: