Exactly one year ago, I wrote a post about my fear of being on camera for Quilting Arts TV. 365 days later, I again am composing my final blog post before I jump in a plane headed East to Cleveland, to film another 2 episodes of Quilting Arts TV!
This year, I am not so nervous…I know what to expect, I've got a clearer idea of what I'm going to do on camera, I am hoping I'll have as much fun as I did last time.
I've still got lots to prep, and packing – ugh! So much to pack. But I'm excited, thrilled to be going. It's an honor, a privilege, a joy, to share what I do with like minded folk. Not only on national TV, but here, every day, on my blog. With you!
I shared my some of my deepest fears with you wonderful people last year, and your comments, they lifted me up, they blew me away, they gave me such incredible strength and energy to be myself, when it really mattered. I was/am humbled, and I am deeply grateful.
My moment? When my nervousness and fear start to bubble up, I only have to return to those comments, and receive the strength from you incredible people, to help me through the stress of filming. I have so many incredible friends I've created through the streaming of electrons from my keyboard to theirs, how lucky am I?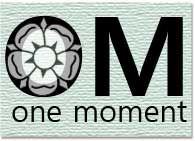 alamodestuff Linda has started a weekly meetup based on taking a moment each week to really notice something as you go about your daily grind life. I need to do this. You may want to too – read more about it here: