I've been learning the value of patience these past couple of weeks. Combining the huge number scarves I need to dye with coolish weather, I've not been able to dye and finish scarves as quickly as usual. Turns out that's a good thing…when I let the scarves soak in a bucket of water for days, not hours, I use a lot less water!


I've been trying out a few new palettes, I think I really like one, I don't like one and the third I'm on the fence about. Perhaps I'll be patient and see how I feel abut them in a month or so.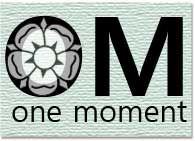 My moment this week? To look for the good in situations that I may find frustrating…who know's what else I'll discover!
alamodestuff Linda has started a weekly meetup based on taking a moment each week to really notice something as you go about your daily grind life. I need to do this. You may want to too – read more about it here: