It's been a couple of weeks since I've had the time to post a moment, I've really missed it! And yesterday, I got such a huge compliment, I just had to share! Sew Mama Sew is doing this great series of interview with all the movers and shakers of the sewing world. Yesterday, it was Kathy Mack of Pink Chalk Fabric's turn. Way back 3 years ago, I was one of Kathy's1st  pattern testers for her very first pattern: the notetakers. I've enjoyed watching her totally rock the online fabric store model, and totally admire her incredible attention to everything she does.
Well, one of the questions the ladies at Sew Mama Sew have been asking their interviewees is "What is one of the best things you saw that was made by someone else? "
Kathy's answer: "I really liked Candy Glendening of Candied Fabrics Mod House Ornaments. I've watched Candy's art grow and mature over the past three years, I think these houses are a spectacular turn in her work."
Holy Guacomole! To say that I am honored and flattered is the understatement of the year! An incredibly awesome moment for sure!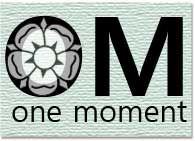 alamodestuff Linda has started a weekly meetup based on taking a moment each week to really notice something as you go about your daily grind life. I need to do this. You may want to too – read more about it here: