My hubby built me a custom display for my booth last month, and it works great. But of course, I wanted one…more…thing. Some shelves, to replace the table I use to hold journals; if I had more than one level, I could set out some pillows on the lower ones and put some of my houses on the upper ones. Anyway, even though he's got tons of stuff to do, he built this last Sunday, and has spent a few evenings in the garage sanding and finishing it – when he's not at an orchestra rehearsal!
I can't wait to see how it works! So my moment: I'm a very lucky gal, to have this man who sands in bare feet in the garage, after a long day of work, so his wife can have a shelf in her booth this weekend!
Me? I've been busy working on a set of clutches and wallets – here's hoping they're done in time!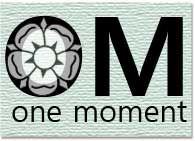 alamodestuff Linda has started a weekly meetup based on taking a moment each week to really notice something as you go about your daily grind life. I need to do this. You may want to too – read more about it here: