Social media – although it can be distraction, it keeps me company up in my studio, and has provided me so many great connections.
Befriending Susan Brubaker Knapp and Judy Coates Perez on Facebook this year led to me having an unexpected welcome in Cleveland for the QATV tapings. This made such a difference in my stress levels compared to last year.
I'm almost through the 1st week of my fall semester. I spend a lot of time and energy early on really trying to get to know my students as quickly as I can. I have a few different activities the first week, both in and out of class, to make this happen. While sending each on a quick note after they update their profiles on Moodle (a learning management system), I hope that my silly replies help us connect quickly, setting us all up for a semester of joyful learning.
Andrew's Dad took a big turn for the worse (he's been ailing all summer) today. Andrew told me about it on the phone while he was running from point A to B today. I sent a quick tweet, and a few awesome twitter friends chimed in with some kind thoughts just when I needed it. It made the day a little less grim.
Connections – they come in many forms, and I am grateful for them.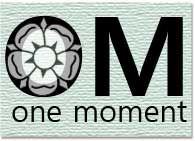 alamodestuff Linda has started a weekly meetup based on taking a moment each week to really notice something as you go about your daily grind life. I need to do this. You may want to too – read more about it here: