I spent Saturday with 44 members of a Presbyterian church in San Bernardino. They received a grant that allows them to bring in an artist for a day to help the parishioners create something to use in their worship. They have a tall sanctuary and a vision of 20 yard swaths of silk, dyed in 4 different palettes of liturgical colors, draped up, over and down the entrance to the front part of the narthex.
I really did not know what to expect, and I never could have dreamed up a more incredible experience. Their pastor did a wonderful job of getting everyone thinking about working as a group, as well as how people have always had special memories of special pieces of clothing, and how those pieces can embody joy.
After that splendid introduction, I did my thing. I spent about 45 minutes telling them about the history of dyeing, the chemistry of fiber reactive dyes, and showed them pictures of my dyeing patterns and color palettes (thank goodness they had a projector I could hook my computer to!) We then divided into four groups, each group had a different liturgical color palette. The group then decided what pattern they would like to dye their silk in, and I ran around like a crazy person, helping each group with a folding/scrunching  plan, and then calculating how they could get their desired colors.
It was totally crazy for about an hour, each group had a fearless person or two, and before I knew it, they were all happily dyeing away. On top of the huge piece of silk, they also had about 8 smaller scarves to be used as stoles for the pastor and her assistant, as well as additional color in the sanctuary.
With the silk dyed and batching in the sun, we all had lunch, and they all spent some time relating a particular moment that they found especially joyful or meaningful. I was quite touched at how working in a group for an hour or two had allowed these folks to truly bond. One person remarked that my joy that I show when talking about my process had spread to the rest of the them. How awesome is that?
The minister then talked about the anticipation she sensed in everyone…and it was true. They were all so excited to see what they had dyed. We rinsed, and then took the silk outside. The sun was shining, the breeze was blowing…they had a magnificent time with their creations:
The pictures aren't great – but I hope you can see the joy on their faces. It was glorious!
Edit: To see some of these installed, click here.
My moment? Dyeing is magical, and sharing the magic is divine!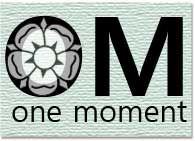 alamodestuff Linda has started a weekly meetup based on taking a moment each week to really notice something as you go about your daily grind life. I need to do this. You may want to too – read more about it here: