One really helpful thing about blogging is that I find myself writing about things that I may not have noticed BB (before blogging).
More than once I've pointed out that I need to slow down, not work myself too hard. Believe it or not, I've been listening.
I've come downstairs to hang with my hubby in front of the TV much more this school year. Although thoretically I could be reading and commenting on blogs that hour or so before bed time, but often I'm too tired!
I've realized that my definition of growing can't mean making even more than I made the year before – where would that stop? Although one constant that I continue to enjoy is seeing multiple similar shapes grouped together… it's groups of 5, not 50 that I love.
I'm doing my best to balance it all, and although I may not always manage it, I'd like to think that I'm doing a slightly better job this year.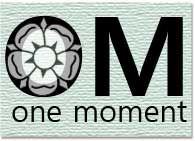 alamodestuff Linda has started a weekly meetup based on taking a moment each week to really notice something as you go about your daily grind life. I need to do this. You may want to too – read more about it here: