About a week ago, Chris Daly of Dye Candy sent me pix of a baby wearing a gift she'd purchased from me last fall, one of my  "Freshly Picked" baby outfits. Oh…my…GOODNESS…so CUTE! (And what an awesome quilt he's lying on!)
For the umpteenth time, I wish I had been the maker I am now back when I had babies. (And I realize that I didn't have time for that then! But still!) Anyway, I had a twinge when I saw them…because I had decided earlier this summer to stop making these to sell at shows. The problem with baby clothes is sizes, and gender. In order for me to keep enough sizes and colors in stock so I have on hand exactly the right color, size, and design for that particular person, well I'd have to turn into a baby clothes manufacturer. Although when I report my taxes to good old Uncle Sam I am a manufacturer…I most definitely am not one! There are many many aspects of making that are tedious, and this was true long before I started my little business, but I always keep my eye on the finish. If what I'm making still excites me, then I'm happy to keep on making. But these outfits weren't cutting it – there were too many variables to keep track of! Now, I'll still make outfits on commission, but as for making more for this Fall show season, nope, not gonna do it! Instead, I'll move onto something else that will probably bring me a similar type of grief – wrap skirts! At least, because they're a wrap, I won't have to worry so much about size (which of course means they're not big enough for ME to wear one…) but I had so much fun making one for Angie, I've just gotta make some more!
I've had this realization before, and I'm sure I'll have it again, but one of my "inclinations" for this year is to keep developing as an artist  – and when I dyed that skirt – both the act itself as well as playing with the finished product, I had that little zing inside that said "yes"! I need to listen for this and pay ATTENTION to it! And so my moment this week was realizing that I can't make everything, I am NOT a manufacturer, I AM AN ARTIST!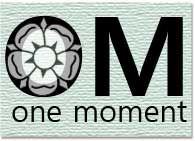 alamodestuff Linda has started a weekly meetup based on taking a moment each week to really notice something as you go about your daily grind life. I need to do this. You may want to too – read more about it here: