As I've been working this week, on custom bag 1, custom bag 2 and one more that's 75% done, I've noticed that I'm easily distracted. I admitted that it was possible that even I needed our upcoming vacation. I'd purchased a bunch of clothing blanks months ago in hopes of prettifying my wardrobe, and I spent some time this week dyeing.

Most of the dyeing I do begins with planning and calculating how I'm gonna mix up my colors. After years of experience I know that, for me, winging it with the dyes usually doesn't create something that has that zing I get when I look at the it. The colors I love are complex – meaning (for me) they are mixtures of 3 primary, single color dyes. What you see in the dye you mix is NOT what you get when you wash our the fabric, thus a plan is needed. But when I'm dyeing for myself, I can take some risks and change my plan on the fly (usually because I don't have quite enough of one of my dyes mixed up and I don't want to mix up more…) So I've come up with a couple of new color combos because of it and I'm really happy about it!
This teal, turquoise and gold one is a winner! WOOT! (I've got another new color combo that's a present for someone, pix later…)
As I was photographing these out in my backyard yesterday morning I got excited to wear them, and I realized that this tremendously eventful school year had come to a close, we've come through it intact, and that we're about to start a fantastic vacation: this is my moment this week!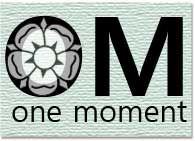 alamodestuff Linda has started a weekly meetup based on taking a moment each week to really notice something as you go about your daily grind life. I need to do this. You may want to too – read more about it here: