This is my last post before I fly off to Cleveland to film 2 segments of Quilting Arts TV early next week. To say I'm nervous would be understating it. Now, I do something similar to this in my day job – I get up in front of a group of people and explain how to do something. Granted, it's usually explaining DNA sequencing or Polymerase Chain Reactions, rather than how to make a messenger bag, but I do this all the time. Without a script (or a written lecture), but with lots of visual cues (powerpoint slides = step outs). I really should not worry, I do this all the time.
So, why am I nervous? The camera.
I do not like cameras. They show someone I'm not familiar with – me…only bigger.
I've struggled with my weight most of my life, and I've never gotten my act together. I've often been too busy making, laughing, reading, teaching, doing, to take the time to eat healthily and exercise.
I do not like to see pictures of myself. Not that many exist. But in order to be on TV, this must happen. I must be thankful for the attention to my work this opportunity brings. I am trusting that the camera will not be focussing on my thighs, or my behind. I'm trusting that the people behind the camera know better angles than my husband does when he takes pictures of me opening birthday presents each year – some of them are truly God awful!
I don't mind this picture:
Of course I've got something to hide behind!
This picture I took myself for the Studios magazine feature (it was a requirement).
(You can see the remote in my right hand…I took about 50 pictures and felt like an idiot the whole time).
Angie took this picture at Sand Harbor this summer…
I try to look at the whole picture, I really do…but all I see is the fat neck.
Dear Lord, please let there be something more interesting to see on the TV screen than my fat neck!
I will breath, and concentrate on being clear and not babbling while I show people how I make this bag, and these houses, these things I make from white fabric and dye, these bits of color in invest so much energy into, that bring me such joy when they are done, please see that and not that fat loud redhead.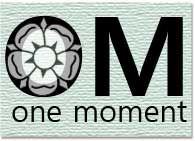 alamodestuff Linda has started a weekly meetup based on taking a moment each week to really notice something as you go about your daily grind life. I need to do this. You may want to too – read more about it here: